Biography/Press Release: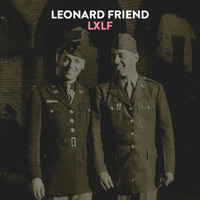 February 25, 2013
Leonard Friend is the R&B/Pop persona of musician/songwriter/producer Alex Feder. After the demise of his previous band, The XYZ Affair, Feder moved from Brooklyn to Los Angeles and Leonard Friend was born. Since launching the project he has received acclaim from Nylon Magazine, MTV Buzzworthy, Stereogum, Consequence of Sound, DJ Booth, and many more. His second EP, LXLF, was released on February 25th.
"LXLF came about as a result of a year of jarring transitions and intense loneliness. There was a certain euphoric point of complete acceptance ... That feeling of near rapturous loneliness, in a nutshell, is this record."
An alter-ego named after his grandfather, Leonard Friend is the sole performer and producer of this EP. He blended his experiences of prior recording and songwriting to create a synth mix of crooner inspired tracks that have pop forms, with R&B highlights, streaming all the while, a slick 80's throwback. He produced a cover of Justin Timberlake and one review compared him to Prince. Leonard Friend is recreating himself in an evolving fusion of sound and images.
Gatorade and Tylenol.
Hypnotic and trance like, Leonard repeats the remedy for pain and dehydration, indeed. But the medicine is the music that keeps you moving.
Holograms.
Melodic voices and throw back synths create a wave of danceable swagger.
Annie Lennox.
High pitched, soulful vocals in a romantic, Bruno Mars meets Maxwell, and Friend pushes it to a higher octave, with a twist of background pop.
Middle Of The Night.
The essence of whiz pop synth, fast paced and repetitive. Leonard does not hold back his vision and creativity in realizing the identity he intended to portray. There is a story that this song has a serious real life narrative, as it was inspired by how his girlfriend took care of him 'in the middle of the night' after surgery. The ultimate test, 'who's gonna love you in the middle of the night?'
Every Woman.
LF digs deep to bust out a 'hooo' toward the end of the song, which reminds us of how much we miss our beloved Michael Jackson, another inspirational force in the making of this EP and videos. Friend ends this track with some fringe guitar work.
The project was able to pull in a "photo used in the artwork is a self portrait of Finnish makeup and visual artist Saara Sarvas, best known for her groundbreaking body painting work, with whom Friend became close while on tour in Europe last year."
Listen to the live stream here: